Career Options after Engineering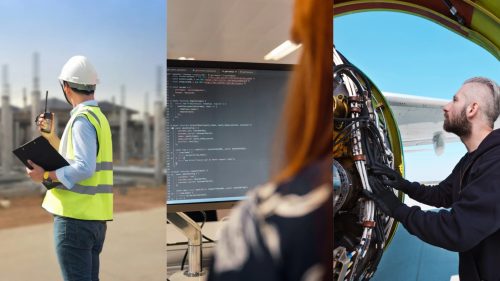 Many students struggle with the dilemma of what to do after engineering. They are perplexed because engineers have several possibilities. It is critical to organize ahead of time so that the student's thoughts are clear when he or she completes engineering. The world is full with possibilities, and one must know when to take advantage of them. In this post, we'll go over some of the several job paths that a student can choose after graduating from engineering school.
Expertise
Following engineering, several universities offer a variety of diploma and certification courses in in-demand topics. Many firms today are searching for engineers that are specialists in a certain industry. Engineers with knowledge of cutting-edge technologies such as artificial intelligence, data science, and blockchain are in high demand. These top-notch courses also include on-campus placements.
There are several alternatives in this sector like Robotics, AI, Digitalmarketing,, VLSI, Blockchain, etc, and the applicant can select and master one of their passions. 
Internship Opportunity
Internship experience adds a lot of value to your CV and greatly boosts your chances of being hired by top businesses. Interning for 3-6 months can help you create a strong professional network and get insight into different workplace cultures.
If you wish to continue your education after graduation, an internship is also a great option. Because internships aren't as demanding as full-time jobs, you'll have plenty of time to balance your work and extracurricular activities. The nicest part about internships is that if you do well, organizations will frequently recruit you as a full-time job.
Higher Ed Options
After graduation, you have the option of continuing your education to improve your work prospects. Higher education not only allows you to expand your knowledge and add another degree to your resume, but it also provides you with unrivaled exposure. Exams like GATE and GRE help you get into top colleges throughout the world, putting you in a better position to get the greatest employment. Higher education also allows you to reassess your job path and opens up other opportunities such as research.
Data Analyst
In today's world, this is one of the most sought-after occupations. Data is required for enhancing productivity, providing better organizational support, productive operations, cost-effective executions, and developing better company strategies and government plans. This profession has no bounds.
Even now, as the world grapples with the COVID-19 problem, data analysts and scientists play a critical role in determining the virus's nature. One can go through several Data Analysis Courses which is available online.
Management
Another alternative for Engineering students is to pursue a Management degree. Many firms favor candidates who have both MBA and engineering expertise over those who only have engineering degrees.
As a result, by combining analytical and management talents, the combined degree adds a lot of value to their profiles. A individual who holds both a Engineering and an MBA degree has the opportunity to work for some of the world's greatest corporations.
Web Development
Following your Engineering studies, you can pursue a career in web development. It comprises designing, programming, and creating websites as well as social networking platforms. For a professional, working in high-end technology is not only lucrative, but also extremely satisfying. This is a career that is growing by the day, and if you can keep up with it, you will have a bright future.
We hope the following list of possibilities clarifies your concerns. This will offers you an idea of what you should do next, such as choosing short-term courses after Engineering. Do keep in mind that every profession has its own set of advantages and disadvantages, as well as obstacles. You must determine which career path is best for you and learn to accept all challenges.