As NEPSE (Nepal Stock Exchange) index grows, the interest in the Nepali stock market has also peaked. Stock refers to fractional ownership of a company. Stock is mostly interchangeably used as Equity or Shares. Shares in particular refer to units of stock. A stock market usually refers to a market space where people, institutions buy and sell publicly available stocks. There are said to be more than 40 lakh Demat accounts Dematerialized accounts) in Nepal. Nepalese public's interest has been increasing for the IPO (Initial Public Offering) and created a surge in opening Demat accounts, as people cannot apply for IPO without the account.
The increase in interest for IPOs can be attributed to the availability of information, awareness about passive income and the importance of investing, people readily talking about investments on social media, etc.  Even though there are a lot of people investing in IPO, they are not active in the secondary market. There are many beginners trying to learn about the market and to aid the process there are various share market training courses as well. You need to take training or actively learn about the stock market, analysis tools, principles, and strategies if you want to grow and gain profit in the market through trading or investment.
What are Share trading and Share investment?
Share trading and share investment are different ways of trying to gain profit in the stock market. Share trading involves buying and selling of shares in a short period of time for smaller and frequent profits. Whereas, share investment involves buying and selling of shares over a long period of time for potentially higher returns.
Investment is about long-term gains through compounding and reinvesting their profit as well as additional benefits like stock dividends, cash dividends to build their wealth. Investors mostly look at a company's long-term prospects through price-earnings ratios, management forecasts, and other market fundamentals. They try to diversify their portfolio to lessen their chances of a complete loss.
Trading is about short-term gains through entering and exiting the market in a short period of time. They try to buy the stocks at a lower price and sell them as soon as they get their required profit margin. Traders mostly look at the stock's technical factor and use technical analysis tools such as moving average, stochastic oscillator, and so on to enhance their chances of profit.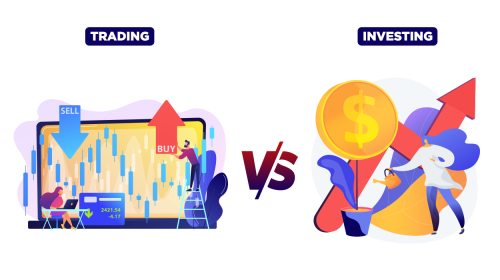 Share Market training through e-learning Platforms
Since the interest in the Share Market has been increasing, people need to be careful about their investments even if it is for trading purposes. Taking a formal education in finance is not important to learn the ins and outs of the share market but it is important to learn the basics of analysis to reduce the chances of incurring a loss. If you are a beginner, you must take share training classes for beginners to get an idea about the market, and analysis process. After the basics are understood, you can move forward with learning advanced technical analysis. Share Market is risky, which is why you need to be prepared. Even if you don't have any share training center near you, you can enroll in many e-learning courses that focus on teaching about the share market. One of the digital learning platforms that have been made for Nepali audiences is Mero School. Here, you can enroll in share training courses that are both beginner-friendly and advanced share training courses. The basic share training course is perfect for beginners as you will learn about the basics of the share market which includes Basic Fundamental Analysis and basic technical analysis. If you require more in-depth knowledge of the share market, then you can enroll in Mero School's advanced share training, which is intended to provide you knowledge on advanced technical analysis.
There are other e-learning platforms and share ma providing share market basic training and advanced training to help share market learning for beginners and for people who have been investing in the market.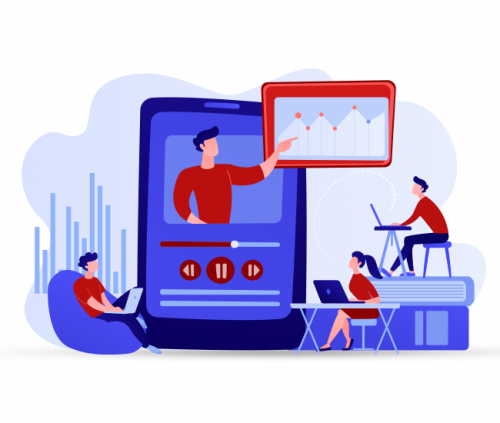 Why is share training necessary?
The stock market is a great way to generate passive income or earn money just by dedicating a few hours of a day. It carries huge risks and also benefits equal to the risks. But to earn profit and reduce the chances of loss, you need to know about the stock market and ways to predict the market from given statistics. Investing a huge sum of money without considering the risk and having proper knowledge of the market can result in huge losses.
With the rising popularity of trading, more and more people are entering the trading market but incurring losses.  Even though there is a huge risk in trading, it still helps people gain huge profits if done correctly, by taking a calculated risk and analyzing the market before investing. Even when people are careful while trading, they can still incur loss and they must be ready for it.
If you want to trade and earn profits you need to have knowledge about technical analysis and the tools needed for the analysis. Not only for trading but training is also required if you are planning on investing. You need to analyze the fundamentals of the business you are investing in and learn how you can earn maximum profit via your investments.
Conclusion
In this growing economy, people must be mindful of their investments. Investing in the stock market is risky and it also yields huge profits. To protect from potential losses and increase the chances of profit by taking a calculated risk, you must have an understanding of the stock market, analysis tools, principles, strategies, etc. There are various online learning platforms where you can learn the basics of the share market as well as advanced techniques related to the analysis of the market.