Table of content 
What is E-School?
Virtual School 
How does Traditional School benefit from eLearning platform?
Importance of E-school
How is Nepal coping with the new Online School?
Conclusion
Online learning has become a popular choice for students around the world during the pandemic. The technology revolution has made it feasible to take classes and get degrees from the comfort of one's own home or anywhere else. As governments and schools suggest canceling classes and exams in the context of a COVID-19, education ministries and schools have shifted the learning process from classrooms to mobile phones and tablets connected to the internet.
Different IT companies have joined together to provide an eLearning platform for students of different ages. Likewise, Mero.school has profoundly developed an application to upgrade the conventional learning method in Nepal.
E-School is a modern and creative educational method that has introduced a huge of changes in the lives of learners and educators. E-learning is the method of learning virtually through electronic different online educational applications, books, CDs, webinars, and other means in the presence of an internet connection. Online courses, therefore, provide a different way to study that attracts the digital student.
Mero school provides high standard quality education which meets the needs of every student. The mero school app offers immersive teaching and learning programs and digital materials such as on-demand videos, quizzes, animated videos, and interactive learning, among many others.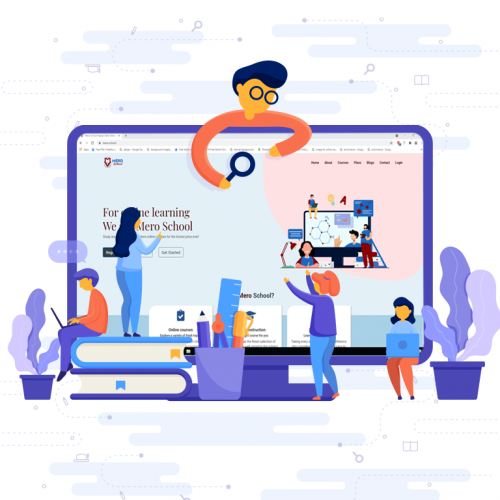 Traditional School 
Traditional school is the process of acquiring information by physically attending courses at schools and colleges to graduate. Traditional teaching takes place in a classroom, and the primary source of information and education is teachers. It focuses on classroom instruction, which is limited to a particular time restriction and a venue where students must be present and attend the lesson.
E-School helps professors to get to know their students better, better analyze their strengths and shortcomings, act as mentors, and help them explore their career options. Students in an e-school can immediately voice their opinions and discuss their questions with the teacher, gaining immediate answers to their inquiries.
In traditional learning, face-to-face learning is boosted and helps maintain students' grades and enhance group activities. Mero School has concentrated on the traditional learning method and developed an application that allows students to interact and engage while receiving a quality education. 
Virtual School
Virtual schools use the internet to provide students with basic education and the opportunity to develop their skills without having to visit a classroom, university, or other institution. The virtual school promotes healthy communication and relevant connections via forums, discussion boards, chat, video calls, and social media sites, which are all captured as text and video to recall afterward. It takes less time to learn a lot since specialists teach specific topics in a shorter amount of time. 
The importance of E-school is that it is quick and does not require much cost. By expanding the traditional learning environment and allowing students from all over the world to learn more about particular topics, the virtual school can enrich the traditional learning experience. Mero school software is a great platform for learners to use to broaden and improve their academic skills in a dynamic and entertaining atmosphere. Mero School uses blended learning technologies to provide analytical expertise alongside realistic and example-based learning.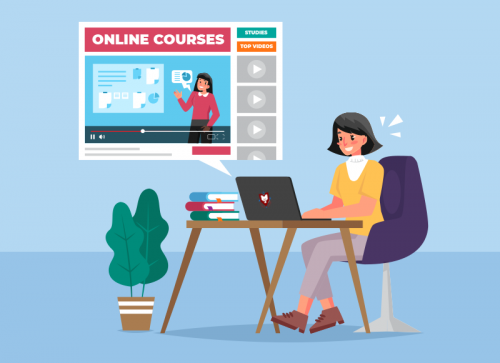 Importance of E-School 
People who recognized the importance of e-learning found it to be effective. It provides the opportunity to achieve excellent performance at a reduced cost or even with no cost at all. Online school can be used more to help students think creatively, understand their environments and nature, develop life skills, and maintain mental health in addition to providing seminars, tasks, and curricular material. Mero School is ideally developed to assist you in transforming customize e-learning solutions that are better tailored to your teaching and learning requirements for both students and teachers. 
Some of the major importance of virtual school are listed below: 
Online learning can help you develop the right set of skills and enables a personalized learning opportunity. 

Lectures can be taken as many times as you want.

E-School meets everyone's needs so that anyone can learn anytime from anywhere. 

It provides a diverse range of programs. Moreover, it is less expensive than offline schooling.

E-Learning reflects the variations between different learners and encourages students to practice their interests and abilities.

E-learning improves the effectiveness of skills and expertise by providing easy access to a vast array of content. 

The e-school makes the whole learning experience more enjoyable.

It encourages students to engage with one another, share ideas, and appreciate diverse points of view. 
How is Nepal coping with the new Virtual School?
The digital transition has drastically changed how education is received, processed, discussed, and exchanged. Nepal has prioritized schooling in COVID, pursuing traditional learning into e-learning platforms to compensate for closing schools.
The pandemic has also shown how quickly Nepal can respond to the challenge of ensuring that learners will boost the education system and contribute to a more prosperous Nepal in the future. In Nepal, students from urban areas, economically disadvantaged, and those with limited English and technical abilities face difficulties accessing and engaging in education.
Cyber School requires electricity and internet connection for a stable learning environment which is irregular and unreliable in Nepal. Despite the difficulties of e-learning processes, Nepal has come to leap forward and embrace e-learning by accepting the problems and eventually tackling them.
Conclusion
E-School or Virtual School or Cyber School or Online School is the use of different digital platforms for teaching and learning courses. It encourages students to learn wherever and wherever they choose by using smartphones, laptops, and computers. It means that students will be able to advance in various learning platforms, which will put them into a larger pool of information to thrive in a modern digital environment.
COVID-19 has held Nepal's learning environment to the test, and there is already a long way to go in terms of improving student's education. Mero School seeks to provide a wider audience with readily available immersive technical education at their fingertips, with information in their native and international languages. Mero School offers students a user-friendly and mobile-friendly interface for intensive online learning experiences that will assist them in acquiring the skills needed for their programs.